Meet Becca Sutor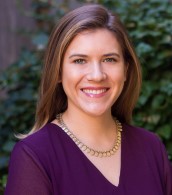 The National Association of Broadcasters wants to introduce to our exhibitors our talented staff that work so hard behind the scenes. Every month we will feature a new employee as a part of a series, so you can learn even more about our team. For this month, we want to highlight the amazing Becca Sutor.  
Here are some facts about her: 
How long have you been working at NAB? 
Six years  
What is your job title?  
Event Operations Manager  
What aspect of your job do you enjoy the most? 
The variety of work and the challenges our work brings. There is never a dull moment and I love the fast-paced environment.  
What is your proudest moment at NAB? 
I'm most proud when I see our events come to life after several months of planning. It's a very rewarding experience to look back at a successful event and reflect on all the challenges we went through and overcame to get to that point.  
Do you have a favorite movie quote? 
"So, good news…I saw a dog today." – Buddy the Elf  
If you were stuck on an island what three things would you bring? 
Satellite Phone 

 
GPS 

 
Motorboat

 
Check in next month to see who we highlight next!